Products > Plastic Bag-Making Accessories > Punching Devices > Handle Punches
Handle Punches
These devices are used for the automatics cut-out of handle holes during carry bag production.
Various models are available, including:
HHP-EJ-U-Servo Series Clean-Cut Handle Punch
Utilising AC servo technology, together with our innovative punching technology, the ORION HHP-EJ-U-Servo clean-cut handle punch facilitates the production of very clean handle cut-outs at high cycle rates. Suitable for a broad range of materials and film gauges, the unit is also suitable for both side-sealed and bottom-sealed bag production.
Salient features include:
AC servo actuation for high speed and long term reliability
Very clean handle cut-outs
ORIONís innovative scrap ejection system for unparalleled consistency
Suitable for side-seal & bottom-seal
Linear ball bushings for ease of lateral displacement
Full safety guarding, with interlock system
Digital parameter setup via control screen, including numerous software related functionalities.
SHP-S Servo Serrated Handle Punch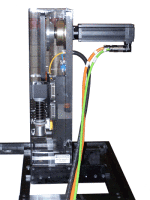 Utilizing AC servo technology, the ORION SHP Series Servo Serrated Handle Punch facilitates the high speed punching of handle holes at the intermittent web zone of a suitable parent side-seal plastic bag-making machine.
Key features include:
AC servo actuation.
Very high performance.
Very smooth operation.
Close fitting web clamp for cleaner holes.
Serrated cutting blade, ensuring ease of bag opening and imple maintenance.
Full safety guarding.
Zero-clearance punch and die handle punches
Zero-clearance punch and die handle punches
Terms & Conditions | Privacy Policy | © 2022 ORION Electronic Equipment